Royal Jelly with Glucosamine (60 capsules per month)
Details
Royal Jelly with Glucosamine

Glucosamine from fresh crab from the Sea of Japan is added to Royal Jelly. This Two-in-One supplement helps you feel young and supports your active life.


Glucosamine naturally exists in various parts of the body. It is essential for joint cartilage, which acts as a shock absorber. However, joint cartilage degrades as you age. <Yawata> combined glucosamine and Royal Jelly, which is considered a highly nutritious food.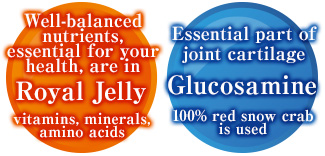 Royal jelly contains abundant nutrients such as vitamins, minerals and amino-acids. Above all, amino acids are important nutrients making up proteins, which become the basis for our body's blood vessels, skin, muscles and so on. When taken together, it supports the work of glucosamine, which helps build cartilage that cushions the joints. In order to stay healthy and keep your joints healthy, we recommend taking "glucosamine" and "Royal Jelly" which has abundant nutrients together.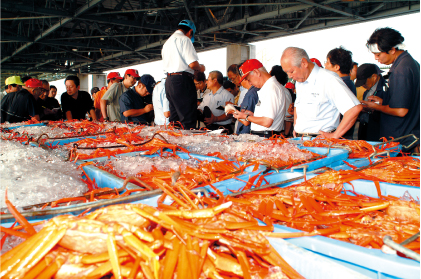 We exclusively use glucosamine from red snow crabs caught off the coast of Sakaiminato, Tottori - one of the best ports in Japan.
Generally, glucosamine is made from various crustaceans like shrimp and crab. Yawata's glucosamine is made with only local red snow crab. Many companies process crab into products in sakaiminato, Tottori. This makes it possible for Yawata to keep high-quality crab shells in stock at all times.
How to take
Take 2 capsules per day with water.
You can take 3 capsules if you wish to take more nutrients.

※It may vary in color of capsule due to natural ingredients.
And it may discolor like brown if exposed to direct sunlight for a long period of time, in either case, does not affect the quality of the product.
Supplement Facts
Nutrition facts(per capsule:900mg)
Calories:4.4kcal
Protein:0.38g
Fat:0.22g
Carbohydrates:0.23g
Sodium:0.069mg
(salt equivalent:0.00018g)
Zinc:0.010mg
Manganese:0.00036mg
Calcium:0.059mg
Magnesium:0.13mg
Potassium:1.2mg
Iron:0.0053mg
Copper:0.0019mg
Vitamin B1:0.0017mg
Vitamin B2:0.0021mg
Vitamin B6:0.0012mg
Pantothenic acid:0.010mg
Niacin:0.032mg
Folic acid:0.11μg
Biotin:0.28μg
Vitamin E:0.097mg
Phosphorus:0.91mg
Arginine:20mg
Lysine:12mg
Histidine:3.0mg
Phenylalanine:6.8mg
Tyrosine:3.2mg
Leucine:11mg
Isoleucine:5.4mg
Methionine:2.9mg
Valine:8.6mg
Alanine:22mg
Glycine:54mg
Proline:32mg
Glutamic acid:28mg
Serine:11mg
Threonine:6.2mg
Aspartic acid:22mg
Tryptophan:0.63mg
Cystine:0.72mg
γ‐aminobutyric
acid(GABA):0.027mg
Inositol:0.072mg
Gluconic acid:8.6mg
As the equivalent
of Royal Jelly:405mg
Decenoic acid:5.8mg
Composition amount(per capsule:900mg)
※Contains crab.
※If you have atopic dermatitis, asthma, food allergies, please avoid taking and if you are pregnant or breast feeding,
 suggest that you consult your physician before taking.
※The above value is only a guideline.(except *)
Recommended for people who…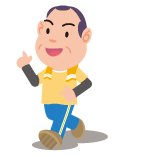 want to lead an active life.
*The photo and illustrations are for demonstration purposes only.
Recommended Related Products