Royal Jelly Gold 800 (60 capsules per month)
Details
Royal Jelly Gold 800

Royal Jelly contains Well-balanced nutrients including vitamins found in fruits and vegetables, minerals found in shellfish and dairy products, amino acids found in meat and fish and decenoic acid unique to royal jelly.
Queen bees that only feed on royal jelly become twice as big as worker bees and lay an average of 2 to 3 thousand eggs per day. Queen bees have a life span of 2 to 4 years while worker bees only live for a month.
Royal jelly has been treasured since ancient times and is the only food queen bees eat.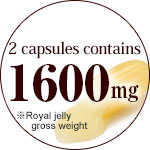 1 capsule contains
800mg of royal jelly (royal jelly gross weight)
Royal jelly is rich in nutrients.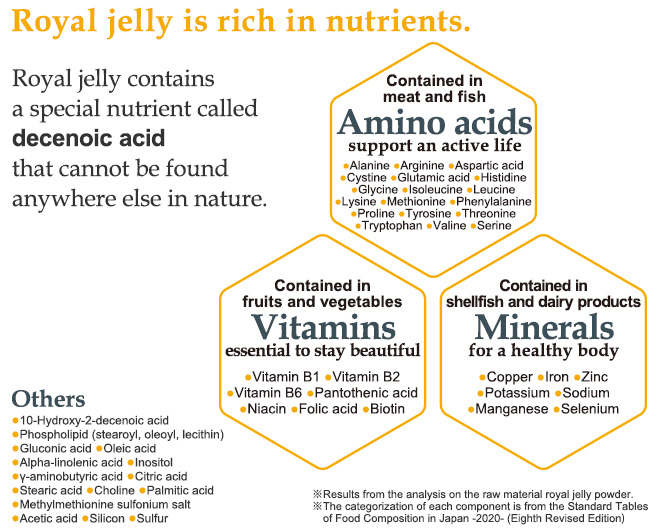 Royal jelly is a special food given only to queen bees.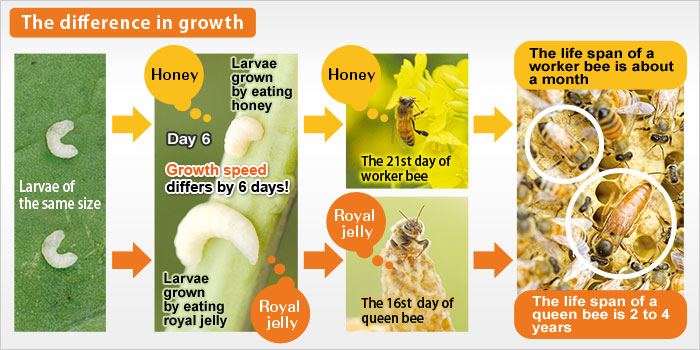 Queen bees come from the same larvae as worker bees.
The difference is that the queen bee's larvae is fed royal jelly, otherwise it would develop into a regular worker bee.
Thanks to royal jelly, a queen bee is more than twice the size of a worker bee. They lay an average of 2000 to 3000 eggs per day. Furthermore, queen bees have a life span of 2 to 4 years while worker bees live only for a month.
Also good to know !
A special gift from honey bees.
How to extract royal jelly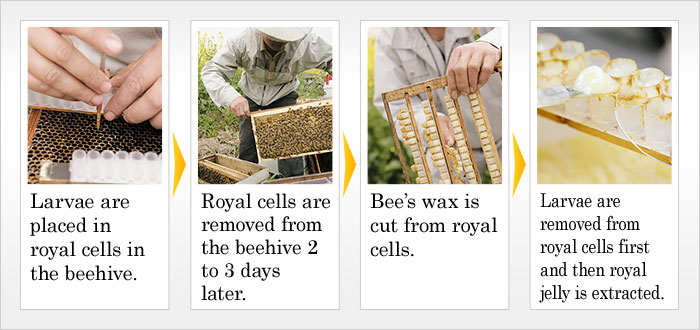 Only 300mg of royal jelly can be extracted from one royal cell. This is not enough for even 1 capsule of Yawata's Royal Jelly. It would be impossible to constantly produce an inexpensive product with royal jelly, without the vast natural resources of China.
Comparison of the amount of honey and royal jelly extracted from one beehive.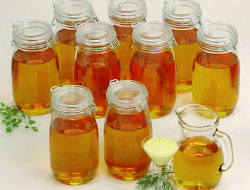 The amount varies depending on the season and weather, but from one beehive only 50g to 75g of royal jelly can be extracted. This is tiny compared to 10kg to 15kg of honey.
How to take
2 capsules per day

※It may vary in color of capsule due to natural ingredients.
It may discolor like brown if exposed to direct sunlight for a long period of time, in either case, does not affect the quality of the product.
It may be delayed when stored in refrigerator.
Supplement Facts
Nutrition facts (Per capsule:660mg)
Calories:3.4kcal
Protein:0.26g
Fat:0.19g
Carbohydrates:0.17g
Sodium:0.13mg
(salt equivalent:0.00032g)
Zinc:0.019mg
Manganese:0.00050mg
Calcium:0.12mg
Magnesium:0.24mg
Potassium:2.2mg
Iron:0.0066mg
Copper:0.0038mg
Vitamin B1:0.0033mg
Vitamin B2:0.0063mg
Vitamin B6:0.0017mg
Pantothenic acid:0.027mg
Niacin:0.054mg
Folic acid:0.13μg
Biotin:0.10μg
Vitamin E:0.029mg
Vitamin K:0.073μg
Phosphorus:1.8mg
Arginine:17mg
Lysine:11mg
Histidine:3.4mg
Phenylalanine:7.6mg
Tyrosine:4.3mg
Leucine:12mg
Isoleucine:6.7mg
Methionine:4.7mg
Valine:9.1mg
Alanine:20mg
Glycine:40mg
Proline:24mg
Glutamic acid:25mg
Serine:11mg
Threonine:8.5mg
Aspartic acid:27mg
Tryptophan:1.1mg
Cystine:1.1mg
γ‐aminobutyric acid:0.044mg
(GABA)
Inositol:0.15mg
Gluconic acid:19mg
JHFA standard components (Per capsule:660mg)
As the equivalent of Royal Jelly:800mg
Decenoic acid:8.8mg
※Contains eggs.
※If you have atopic dermatitis, asthma, food allergies, please avoid taking.
If you are taking medicine, going to hospital, pregnant or breastfeeding, please consult your doctor before using.
Recommended for people who…

want to stay active.
want to stay beautiful and healthy.
have an irregular diet.
Customer's Voice
I thought: "This product really works!"
Kyoto Prefecture Mrs. Aoki (65 years old)
I've owned and managed a café restaurant since 1981. After my husband passed away in 1984, my life became very chaotic. When my child was about 11 or 12 years old, I was extremely busy. Even under such circumstances, I had to serve and be cheerful to customers. Around that time, I saw a commercial about Yawata's Royal Jelly. I was surprised by the deep colour and size of the capsules. It made such a good impression on me that I thought that this supplement could really work. I ordered it right away and have been taking it ever since. I don't know exactly what in it is good for me, but it makes me happy that I can be full of energy. Royal Jelly allows me to keep working, and work means a lot to me. Royal Jelly gives me the energy to work. I think I'll take it for the rest of my life.
※The age is at the time of the interview.
※This is an actual user's view and doesn't guarantee the effect of the product on others.
*The photo and illustrations are for demonstration purposes only.
Recommended Related Products