About the company
~Information about Yawata Corporation~
Message from Representative Director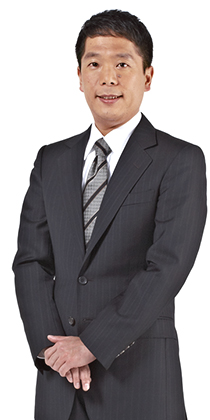 Hello. I'm Mr. Yawata, Representative Director of Yawata Corporation.
Thank you for visiting our website from among the many other supplement distributors.
Our company is located in Tottori Prefecture, which has the smallest population in Japan but has an abundance of nature. We are pleased to live in such a nature-rich environment. Our ancestors led healthy lives in this nature-rich location. Today, we continue to make a living here, while also learning about our health.
We believe in nutritional science, but we also think that the source of our health exists in nature.
Our goal is to deliver this health to our valuable customers and to support your healthy lives.
We would like to nurture buds of health for the future. We would like to share the blessings of nature with our customers. This is the simple wish from us raised in Tottori Prefecture.
| | |
| --- | --- |
| August, 2007 | Yawata Corporation Representative Director Kiyoshi Yawata |
Our goals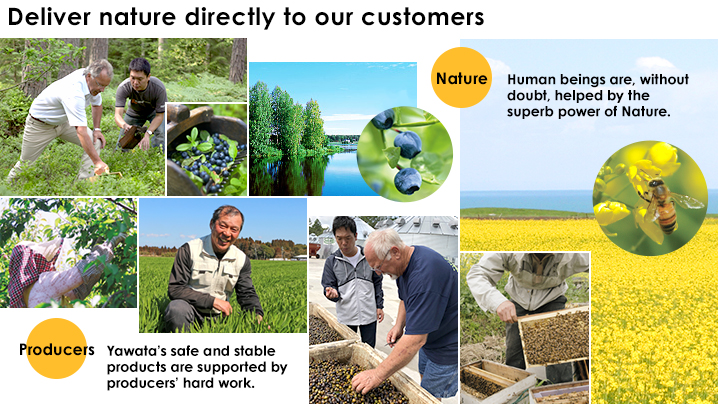 We are very particular about all of our ingredients and make sure they are all natural. The important thing is not just the origin of the ingredients but what kind of nutrients those ingredients have and how safe and secure they are.
Our staff travels all over Japan and the world. If we find ingredients we want to use for our products in foreign countries, our staff frequently visits those actual places. We have numerous face-to-face discussions with the producers until we reach an agreement on all aspects. We confirm production and safety measures before finally signing a contract. Yawata delivers the precious blessings of nature to customers with the best intentions.
Fish Gelatin  Pioneer in the supplement industry

Yawata has been using soft capsules made from fish gelatin since 2002. Generally, ingredients used to make capsules are derived from land animal products. However, capsules from fish gelatin can be more readily digested and are easier to swallow. We switched to fish gelatin capsules relatively early in this industry. Since they are from fish, they are safe to consume.

Glycerin

It is extracted from vegetable oil. It is also produced in the human body. It provides flexibility to gelatin capsules and protects them from damage.

Soybean Oil (Safflower Oil)

Capsules are water-soluble and are emulsified in the production process. During emulsification, a small amount of oil is used. Yawata uses soybean oil or safflower oil, which are safe to be consumed.

Beeswax

Beeswax is used to stabilize the emulsion. We choose beeswax instead of chemical ingredients. It is similar candle wax (in the case of capsules).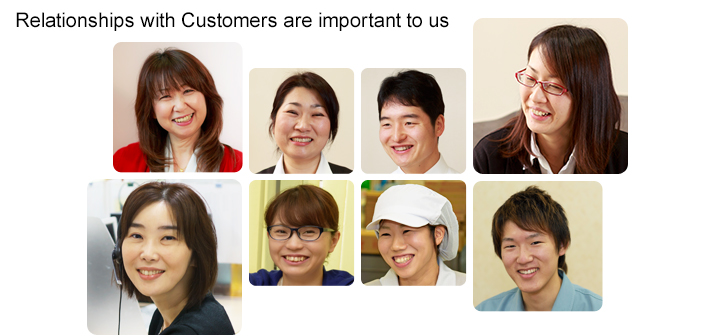 We sell and deliver our products by mail order. We don't have many opportunities to actually meet our customers in person, but we try to put a face to each customer and to handle each case sincerely.
We hope that "our thoughts will reach customers through our words", and try to deliver not only the products you order but also peace of mind and satisfaction.
A healthy body cannot be achieved alone, just as flowers bloom with the support of soil, water and the sun.
Through our meeting, we hope that Yawata can help your health bloom like a flower.
Yawata's 2 safety points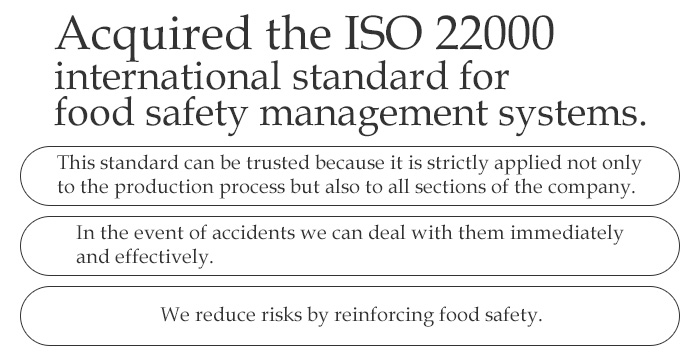 ISO 22000 is an international standard developed by the International Organization for Standardization dealing with food safety management systems.
 Yawata wanted increased production safety and security within the company and also with our suppliers in order to deliver safe products from the producers of ingredients to customers. We aimed to acquire "ISO22000" and succeeded on January 25th, 2010.It was relatively early among the maker and distributor of supplements.
 In order to issue ISO22000, a "surveillance" audit is conducted by the certifying body once a year and a renewal audit is done every 3 years by a third party organization. If a non-conformance is found in these audits, a corrective action has to be undertaken within a prescribed period of time, otherwise the certification is revoked. We work sincerely out of a sheer desire to deliver safe and secure products to customers.
 ※The message above is limited to health food products.
---

 GMP stands for Good Manufacturing Practice.
 There are detailed guidelines for this certification system. The purpose of this certification is to ensure safety and quality of products through proper quality and production control, and construction of plant facilities, in all steps from receiving ingredients to final shipping. The guideline principles are strictly applied even when some parts of the process are commissioned to other companies.
 Yawata's packaging plant in Nihongi, Yonago has been certified as a GMP plant by the Japan Health and Nutrition Food Association. As of October 30th 2008, there are only 45 GMP qualified plants in Japan, including Yawata.

 The products we deliver to our customers are carefully stored in our company. We establish a system that can respond accurately to customers' enquiries by keeping a sample of the products and ingredients used in the production process in the same period of time. We manage all processes, including; how a product is ordered, packaged, and delivered. We ensure traceability from our company to delivery to the customer.
 We have
5 strict guidelines for action (Quality Policy)
for quality improvement of products and customer service. Yawata, and every company connected to our business, follows these guidelines.
 We set high goals based on these guidelines and we try to improve rules and activities based on what we feel during working hours or customers' feedback.
Yawata's Quality Policy
Our company deals with people's health, our corporate philosophy is based on implementing "honest manufacturing" and "friendly customer service". Our mission is to deliver "secure, safe, high quality" dietary supplements to everyone.
All our employees are aware of the importance of manufacturing and selling products which affect people's health. In addition to complying with food safety guidelines, such as laws and regulations, we must also carry out our business operations with a high ethical standard that earns the trust of society.
We have the following policies as specific measures to improve the quality of products and services.
1 "Thorough Compliance Policy"
We will maintain the trust of a qualified business operator by complying with food safety laws and regulations and striving to comply with customers' opinions and requests as much as possible.
2 "Thorough Quality Assurance"
In addition to complying with various standards in all manufacturing and sales processes, we will strive to ensure quality by thoroughly implementing 7S (sort, set in order, shine, standardize, sustain, safety, spirit).
3 "Communication"
We will strive to improve quality by communicating internally and with our customers and business partners to ensure the necessary provision of information (display items, allergens, product characteristics, etc.).
4 "Continuous Improvement"
Our company and business partners periodically assess the validity of the food safety management system and strive for continuous improvement.
5 "Guaranteeing Competence"
Our company's personnel and business partners strive to guarantee food safety competence.