Japanese Glucosamine (Foods with Function Claims) (90 tablets per month)
Details
Foods with Function Claims Japanese Glucosamine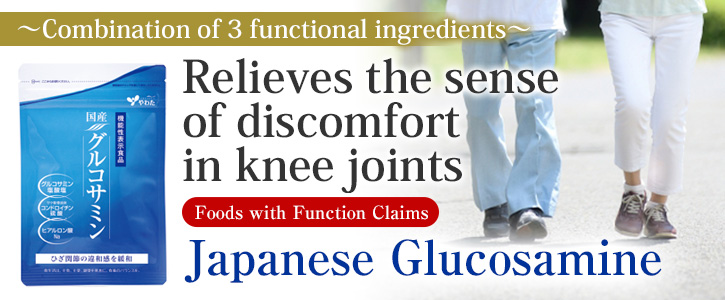 "Japanese Glucosamine" has been accepted by the Consumer Affairs Agency, Government of Japan as Foods with Function Claims.
【Submitted claim】This product contains glucosamine hydrochloride, Chondroitin sulfate from salmon cartilage and Hyaluronic acid Na, therefore it can relieve the sense of discomfort in knee joints and improve bending and stretching movement.
Functional substance
Glucosamine hydrochloride
Chondroitin sulfate from salmon cartilage
Hyaluronic acid Na

Notification Number:D120
●Under the responsibility of a food business operator, this product has been submitted to the Secretary-General of the Consumer Affairs Agency as a product labeled with a statement that specified health outcomes can be achieved. However, unlike Foods for Specified Health Uses, this product has not been individually evaluated by Secretary-General of the Consumer Affairs Agency.
●This product is not intended to diagnose ,treat , cure, or prevent any disease.
●This product is not a food developed for those suffering from illnesses, children, pregnant women (including those planning to become pregnant) and lactating women.
●If you are ill, consult your doctor. If you are taking medicine, consult your doctor or pharmacist.
●If you experience a change in your physical condition, immediately stop taking the product and consult a doctor.
●Maintain a balanced diet including a staple food, a main dish and side dishes.
What are "Foods with Function Claims"?
Before this system was in place, making function claims on food labels had only been allowed for government-approved Foods for Specified Health Uses(FOSHU) and for Foods with Nutrient Function Claims(FNFC) that complied with the specifications and standards designated by the government.
This new type of Foods with Health Claims, called Foods with Function Claims, was introduced in April 2015 in order to make more available products clearly labeled with certain nutritional or health functions and to enable consumers to make more informed choices.
Combination of 3 functional ingredients
3 functional ingredients that relieve the sense of discomfort in knee joints.
Dynamic and healthy daily support.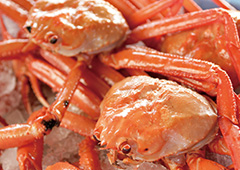 Glucosamine hydrochloride
Glucosamine is an amino sugar, a natural amino-acid, and can be found in various parts of your body.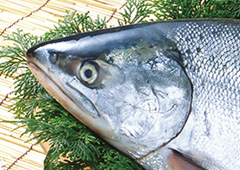 Chondroitin sulfate from salmon cartilage
Chondroitin sulfate is extracted from the nose, close to the head or Hizu: thinly-sliced head cartilage, of salmon caught in Japan.
Supports an active life so you don't have to give in to age.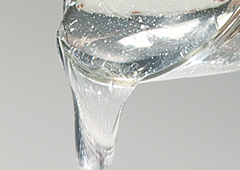 Hyaluronic acid Na
1 gram of Hyaluronic acid is said to have the water retention potential of 6 liters, but that decreases as you age.

【Clinical trial implementation】Improve the bending and stretching movement of the knees
We identified a significant difference between 9 points in a clinical trial.
In the Japanese glucosamine intake clinical trial, we observed 9 points of statistical significance and we could verify the scientific foundation of the function of the product.
Going up and down the stairs
Standing up
Standing up from a chair
Taking off socks etc.
Walking at a fast pace
Holding slightly heavy things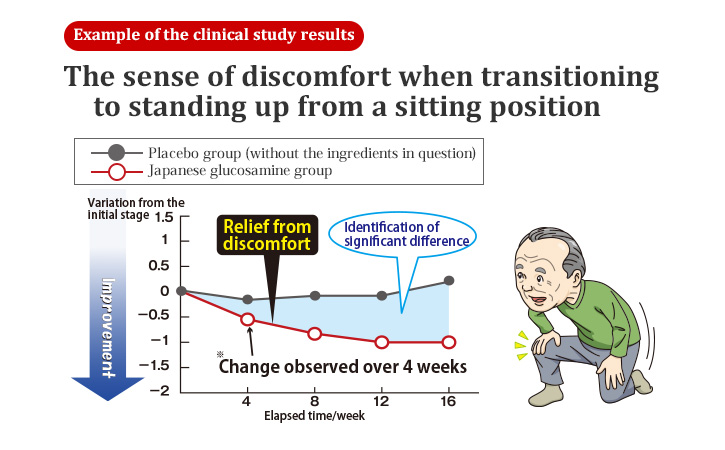 ※Regarding the data of: "When standing up from a sitting position", it was possible to observe a significant difference within the groups (compared to the initial stage) from the 4th week throughout the 16th week.
<Source:Effect of a drug and treatment Vol. 45 no. 6 2017>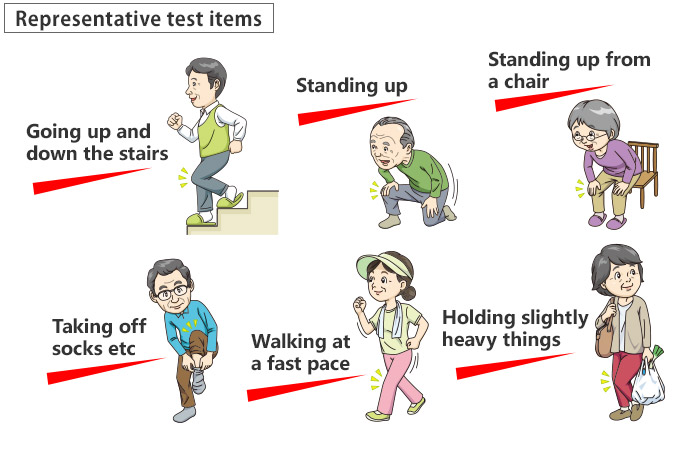 Japanese Glucosamine supports your healthy life!
We use crabs caught locally in Tottori.
We only use red snow crab from Sakaiminato for Yawata's "Japanese Glucosamine". Sakaiminato, near Yonago city where Yawata is located, has the highest catch of crabs in Japan. Proportional to catch size, processing of crabs in Sakaiminato is prospering.
Usually, glucosamine is extracted from the shell of shrimps, crabs and various crustaceans, but to make Yawata's glucosamine we only use soft parts from the abdomen and legs of fresh red snow crab. For this reason, from 1kg of crab just under 10g can be extracted.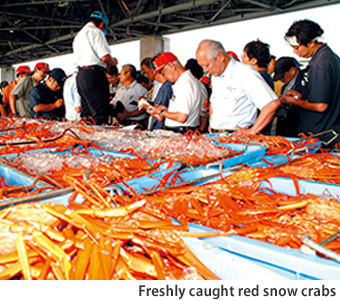 How to take
Take 3 tablets per day with cold or tepid water without chewing.
※Consult your doctor or pharmacist in case you are using anti-thrombosis medicine.
※Please observe the daily intake recommendation and refrain from excessive consumption.

Supplement Facts (per 3 tablets:1080mg)
Calories
:4.1kcal
Protein
:0.31g
Fat
:0.024g
Carbohydrates
:0.73g
Sodium
(Salt equivalent
:0.76mg
:0.0019g)
Glucosamine hydrochloride
:738mg
Chondroitin sulfate from salmon cartilage

:5.4mg
Hyaluronic acid Na
:2.4mg
※Contains crab.
Recommended for people who…

Are middle-aged or old-aged and have trouble bending and stretching the knees.
Have a sense of discomfort in the knee joints.
Want to stay active.