Japanese Proteoglycan (Foods with Function Claims)
(15 capsules for half a month)
Details
Foods with Function Claims Japanese Proteoglycan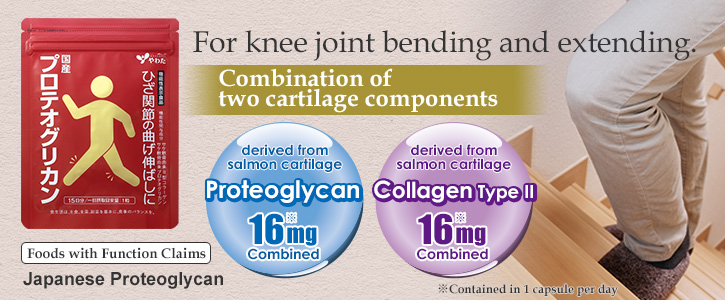 【Submitted claim】
This product contains Proteoglycan derived from salmon cartilage and Collagen Type II derived from salmon cartilage. These two ingredients are reported to improve the function, and bending and stretching movement of the knee joint in middle-aged and elderly healthy people. Suitable for people who are concerned about sitting on their knees, standing up, running, going up and down the stairs and so on.
Functional substances
Proteoglycan

derived from salmon cartilage


Collagen Type II

derived from salmon cartilage

Notification Number

:D554
●Under the responsibility of a food business operator, this product has been submitted to the Secretary-General of the Consumer Affairs Agency as a product labeled with a statement that specified health outcomes can be achieved. However, unlike Foods for Specified Health Uses, this product has not been individually evaluated by Secretary-General of the Consumer Affairs Agency.
●This product is not intended to diagnose ,treat , cure, or prevent any disease.
●This product is not a food developed for those suffering from illnesses, children, pregnant women (including those planning to become pregnant) and lactating women.
●If you are ill, consult your doctor. If you are taking medicine, consult your doctor or pharmacist.
●If you experience a change in your physical condition, immediately stop taking the product and consult a doctor.
●Maintain a balanced diet including a staple food, a main dish and side dishes.
What are "Foods with Function Claims"?
Before this system was in place, making function claims on food labels had only been allowed for government-approved Foods for Specified Health Uses(FOSHU) and for Foods with Nutrient Function Claims(FNFC) that complied with the specifications and standards designated by the government. This new type of Foods with Health Claims, called Foods with Function Claims, was introduced in April 2015 in order to make more available products clearly labeled with certain nutritional or health functions and to enable consumers to make more informed choices.
Combination of 2 functional ingredients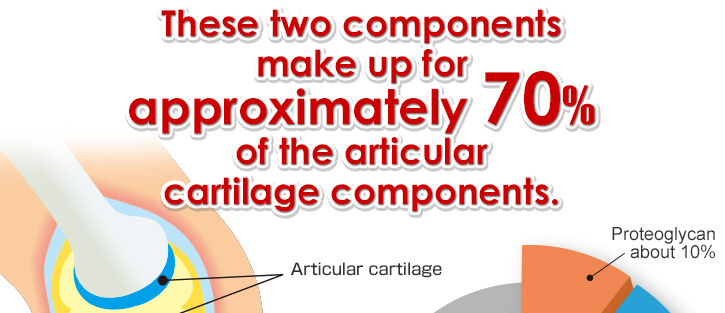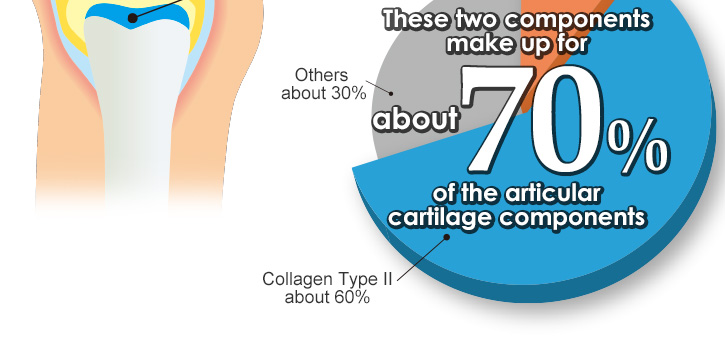 ※Articular cartilage components without water
References:Ann.rheum.Dis.1973 Jul;32(4):364-378

Proteoglycan contains proteins and chondroitin sulfate and is widely found into the body such as in cartilage and skin.
Excellent in water retention and elasticity, it has the function of absorbing impact.

A type of protein mainly found in cartilage such as in joints and in the eyeball.
It has the function of preserving the cartilage structure.

Clinical studies have confirmed that the ingestion of "salmon cartilage-derived proteoglycan" and "salmon cartilage-derived type II collagen" improves the movement of the knee joint that involves bending and stretching.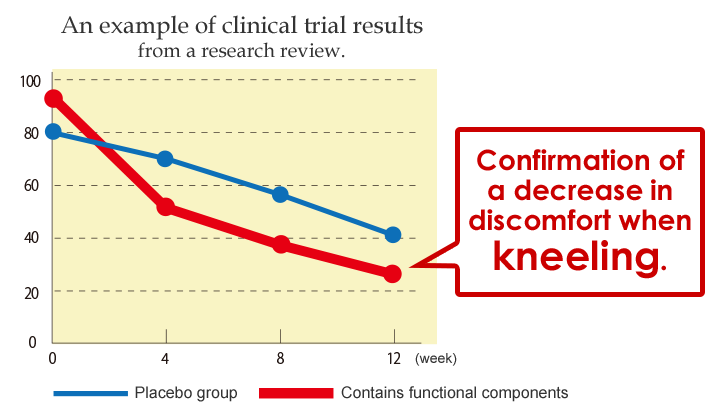 Clinical study conducted on 60 healthy men and women, over 40, and less than 70 over a period of 12 weeks about "discomfort when kneeling and sitting on your knees" (Stiffness, discomfort and pain in the knees when kneeling and sitting on your knees) confirmed a significant difference.
<Source: Japanese Pharmacology & Therapeutics Vol.45 No.2 2017>
※This is one representative example from the research review.
*The photo is for demonstration purposes only.
How to take
Take 1 tablet per day with water without chewing.
Supplement Facts (1 capsule:200mg)
Calories
:0.67kcal
Protein
:0.028g
Fat
:0.0050g
Carbohydrates
:0.16g
Sodium
(salt equivalent
:1.1mg
:0.0029g)
Proteoglycan
derived from salmon cartilage

:16mg
Collagen Type II
derived from salmon cartilage

:16mg
Recommended for people who…

Middle-aged and elderly healthy people concerned about knee joints.
Concerned about kneeling and sitting on your knees, standing up, running, going up and down the stairs.
want to stay active