Royal Jelly with Aged-Garlic (60 capsules per month)
Details
Royal Jelly with Aged-Garlic

Aged-garlic specially grown in Aomori Prefecture is added to Yawata's Royal Jelly. This Two-in-One supplement supports your active life.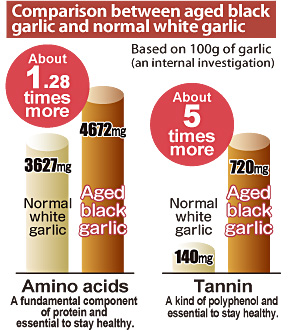 Garlic is believed to boost stamina and have been consumed in many forms for a long time.Yawata uses this 30 days matured garlic.Fully mature garlic turns black unlike milky white raw garlic.The amount of amino acids and tannin which are contained in garlic will increase by aging.Royal Jelly contains well-balanced nutrients including vitamins found in fruits and vegetables, minerals found in shellfish and dairy products, amino acids found in meat.Taking them together will support your powerful and active life.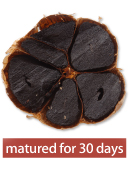 The aged-garlic used in "Royal Jelly with Aged-Garlic" is processed slowly under milder temperature conditions than other aged-garlic, which enables the garlic to retain its active ingredients.
Skilled farmers take care of each individual piece of garlic by paying attention to the seasons, weather, temperature and humidity.
How to take
Take 2 capsules per day.

※It may vary in color of capsule due to natural ingredients but it does not affect the quality of the product.
Supplement Facts (Per capsule:555mg)
Calories
:2.8kcal
Protein
:0.21g
Fat
:0.16g
Carbohydrates
:0.14g
Sodium
(Salt equivalent
:0.068mg
:0.00017g)
Zinc
:0.0092mg
Manganese
:0.0011mg
Calcium
:0.091mg
Magnesium
:0.16mg
Potassium
:2.6mg
Iron
:0.0051mg
Copper
:0.0019mg
Vitamin B1
:0.0014mg
Vitamin B2
:0.0028mg
Vitamin B6
:0.0021mg
Pantothenic acid
:0.011mg
Niacin
:0.027mg
Folic acid
:0.11μg
Biotin
:0.075μg
Vitamin E
:0.063mg
Phosphorus
:1.1mg
As the equivalent of Royal Jelly
:300mg
10-Hydroxy Decenoic Acid
:4.3mg
(10HDA)
Aged-garlic powder
:100mg*
※If you have atopic dermatitis, asthma, food allergies, please avoid taking and if you are pregnant or breast feeding, we suggest that you consult your physician before taking.
※The above value is only a guideline. (except *)
Recommended for people who…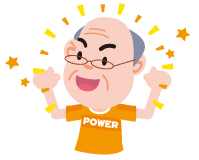 are busy.
want to stay active all day.
like playing sports.
*The photo and illustrations are for demonstration purposes only.
Recommended Related Products