Royal Jelly with Placenta (60 capsules per month)
Details
Royal Jelly with Placenta

Placenta extract, has been added to Yawata's Royal Jelly. It helps you to stay active and lively. It's recommended to women and men that want to stay young and active.


The beautifying agents "Placenta" and "Royal jelly" are becoming popular among people.Both contain lots of vitamins, minerals and amino acids, which are important to maintain beauty. It is a recommended agents for those who want to pursue beauty without excusing age.
Amino acids are an important component that is essential for collagen. Placenta contains rich in amino acids, including essential amino acids that can not be synthesized in the body.The royal jelly contains Vitamin B, which plays an important role maintains beauty.
Yawata combines fermented placenta that has an enriched nutritive value and royal jelly in one capsule for your convenience.This product will help to make your life glow.

Recently, fermented food has started to attract attention for its health benefits.Yawata uses Japanese fermented placenta in its supplements.Our high quality placenta is extracted and refined carefully from Japanese specific-pathogen-free (SPF) pigs. The hygiene and quality of these pigs is managed completely. Placenta is slowly fermented for a month and aged for a further 2 months. This process increases the beautifying components of various amino acids and active ingredients such asSA amino acid, sialic acid,which are essential for the production of collagen.

Placenta extract contains 20 kinds of amino acids including essential amino acids.
How to take
Take 2 capsules per day with water.

※It may vary in color of capsule as ingredients of royal jelly are from natural origin.
And it may discolor like brown if exposed to direct sunlight for a long period of time, in either case , does not affect the quality of the product.
Supplement Facts
Nutrition facts (Per capsule:500mg)
Calories:2.6kcal
Protein:0.22g
Fat:0.16g
Carbohydrates:0.070g
Sodium:0.47mg
(salt equivalent:0.0012g)
Zinc:0.0093mg
Manganese:0.00050mg
Calcium:0.24mg
Magnesium:0.13mg
Potassium:1.1mg
Iron:0.0074mg
Copper:0.0014mg
Vitamin B1:0.0015mg
Vitamin B2:0.0029mg
Vitamin B6:0.0011mg
Pantothenic acid:0.011mg
Niacin:0.030mg
Folic acid:0.13μg
Biotin:0.22μg
Vitamin E:0.0010mg
Phosphorus:1.1mg
Arginine:16mg
Lysine:10mg
Histidine:2.8mg
Phenylalanine:5.9mg
Tyrosine:2.6mg
Leucine:9.4mg
Isoleucine:4.7mg
Methionine:2.8mg
Valine:7.5mg
Alanine:18mg
Glycine:42mg
Proline:25mg
Glutamic acid:23mg
Serine:8.7mg
Threonine:5.8mg
Aspartic acid:18mg
Tryptophan:0.70mg
Cystine:0.75mg
γ‐aminobutyric acid(GABA):0.035mg
Inositol:0.36mg
Gluconic acid:6.0mg
As the equivalent of Royal Jelly:300mg
Decenoic acid:5.1mg
Composition amount (Per capsule:500mg)
Fermented placenta extract powder:60mg*
(gross weight of:1,500mg)
※If you have atopic dermatitis, asthma, food allergies, please avoid taking.
※If you are taking medicine, going to hospital, pregnant or breastfeeding, please consult your doctor before using.
※The above value is only a guideline. (except *)
Recommended for people who…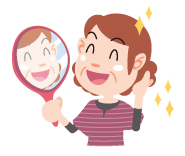 ★want to lead an energetic life.
★want to stay young and active.

*The photo and illustrations are for demonstration purposes only.
Recommended Related Products