Black Vinegar with Aged Garlic (62 capsules per month)
Details
Black Vinegar with Aged Garlic

An energy source has been added to our popular Black Vinegar from Zhenjiang!!
The energy source, "garlic" has been added to Yawata's "Black Vinegar from Zhenjiang", which has been one of our most popular and well-loved products because of its traditional craftsmanship and Yawata's technology.We use "lack vinegar", rich in amino acids and organic acids, processed with the traditional Chinese manufacturing method, and "black garlic", Fukuichi's aged, white, six-clove garlic from Aomori prefecture.Inside the daily quantity of 2 capsules there is 100mg of Aomori prefecture's Fukuchi white six cloves powder.It supports the health of those who want to stay energetic and active with both the power of amino acids in Black Vinegar of Zhenjiang for the body's foundations, and the power of aged garlic.
We use aged black garlic!
| | |
| --- | --- |
| | |
| | From among the numerous kinds of garlic available, powder from Aomori Prefecture Fukuchi garlic has been chosen for this supplement. Fukuchi garlic has higher sugar contentthan other kinds of garlic since it is grown in harsh cold weather.The effective components in garlic are concentrated and locked in by allowing it to mature for 30 days under a mild temperature. |
| | |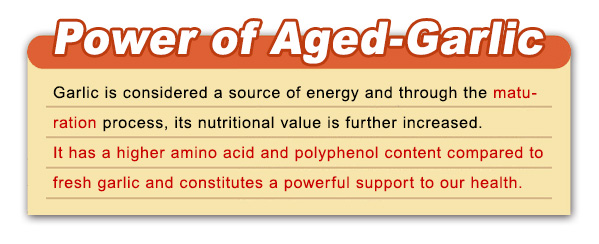 Popular Black Vinegar from Zhenjiang has been loved.



Amino acidsare the foundation of protein, which is one of the body's building blocks. Protein helps maintain health. However, amino acids constantly need replacing. Therefore, amino acids, contained within protein, are essential.You can enjoy a youthful and healthy life by taking amino acids.

Vinegar is mainly made from glutinous rice, rice hulls and wheat bran safely grown in the rural areas ofZhenjiang, which is rich in water resources, by brewing alcohol, aging, and filtering of the vinegar. Vinegar created slowly over 9 months is rich in amino and organic acids.



| | |
| --- | --- |
| | |
| We have a system in our bodies called the "Citric Acid Cycle", which turns various nutrients into energy.Organic acids are key components for a smooth citric acid cycleand essential forstaying healthy and active.Taking organic acids supports your health. | The quality of vinegar is determined by its acidity. The higher the acidity is, the higher the quality. The first pour contains an overwhelmingly higher amount of amino and organic acids. Typical vinegar is a combination of the first, second and third pours for homogenization, but Yawata only uses the first pour, which is rich in amino and organic acids. |
How to take
Take 2 capsules per day with water.

※It may vary in color of capsule due to natural ingredients
but it does not affect the quality of the product.
Supplement Facts
Nutrition facts(Per capsule:645mg)
Calories:3.2kcal
Protein:0.21g
Fat:0.18g
Carbohydrates:0.18g
Sodium:1.2mg
(salt equivalent:0.0031g)
Amino acid content (Per capsule:645mg)
Arginine:13mg
Lysine:5.8mg
Histidine:1.8mg
Phenylalanine:3.9mg
Tyrosine:1.2mg
Leucine:5.8mg
Isoleucine:2.8mg
Methionine:2.2mg
Valine:4.9mg
Alanine:19mg
Glycine:40mg
Proline:22mg
Glutamic acid:20mg
Serine:6.7mg
Threonine:5.0mg
Aspartic acid:11mg
Tryptophan:0.060mg
Cystine:0.58mg
γ‐aminobutyric acid(GABA):0.21mg
Organic acid content (Per capsule:645mg)
Citric acid:13mg
Lactic acid :13mg
Composition amount (Per capsule:645mg)
Rice vinegar extract powder:200mg*
※Contains wheat.
※The above value is only a guideline.(except *)
Recommended for people who…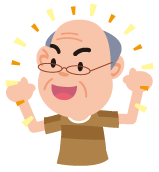 ★want to stay active
★Often eat flavorful and rich food
*The photo and illustrations are for demonstration purposes only.
Recommended Related Products