Black Vinegar from Zhenjiang (62 capsules per month)
Details
Black Vinegar from Zhenjiang

Vinegar contains plenty of amino and organic acids. It is produced thanks to craftsmanship and years of experience and is a great source of energy.
At Yawata, we are particular about using the traditional Chinese manufacturing method, which uses yeast that is difficult to handle and ferments and matures for a period of 9 months. We only use the first pour of the vinegar, rich in amino acids and organic acids. We succeeded in putting it into capsules without loosing any of the nutrition, thanks to Yawata's original technique.
"vinegar" made using traditional Chinese methods is a source of health.
Years of craftsmanship and experience have led to the production of a delicious vinegar, full of amino acids and organic acids.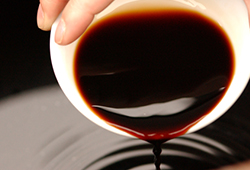 Glutinous rice cultivated in the countryside of Zhenjiang, which has abundant water sources, and wheat bran are used as raw materials and used in the process of brewing rice wine, aging vinegar, and filtering. Then, the power of nature starts a process of complete fermentation and maturation which lasts approximately nine months.
Vinegar is processed slowly over 9 months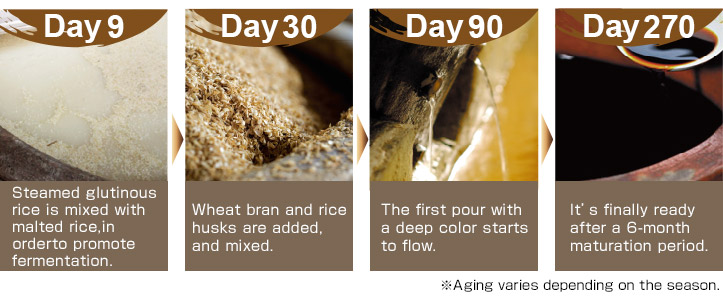 Traditional sake brewing produces good vinegar.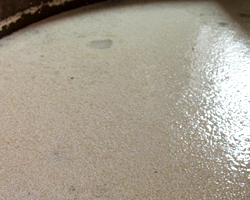 The making of Black Vinegar of Zhenjiang starts with sake making. This is actually the most important process to obtain good vinegar.
With the traditional manufacturing method used by Yawata, we can make a sake with a high alcohol content by volume, which subsequently enhances the vinegar's organic acidity.
A good sake has more organic acids and that produces more amino acids.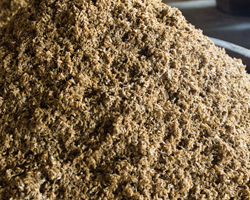 High quality sake is mixed with rice husks, wheat bran and acetic acid bacteria. Mixing it everyday gives acetic acid bacteria oxygen and stimulates them to increase. Alcohol is acetic acid bacteria's food. Sake with high alcohol levels, and lots of oxygen immediately increases the number of acetic acid bacteria. It becomes high-quality vinegar with plenty of organic acids. Protein is broken down into amino acids during the process.
Good to know !
Chinese concept: A balanced diet leads to a healthy body.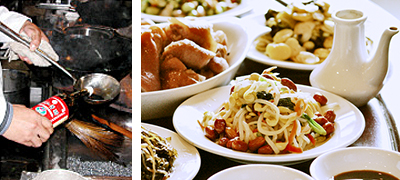 There is an old Chinese saying that talks about the 7 most important things in daily life. These are firewood, rice, oil, salt, miso, vinegar and tea. It highlights the importance of vinegar as well as that of rice and salt. In China, where the teaching of food and medicine has been passed down from generation to generation, vinegar is considered a source of health.
Black Vinegar from Zhenjiang contains lots of organic acids and amino acids, thanks to the traditional Chinese production process and Yawata's original research.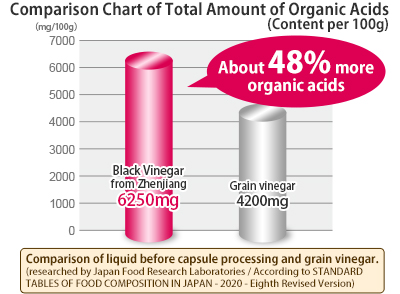 The power derived from organic acids help to produce efficient energy.
Organic acids are essential to stay active because they help the functioning of the "Citric Acid Cycle", which is important to generate energy for our body. Taking organic acids from Black Vinegar is important for the "Citric Acid Cycle" to function smoothly and efficiently, and to stay healthy.
Black Vinegar is a big supporter for those who concerned about health.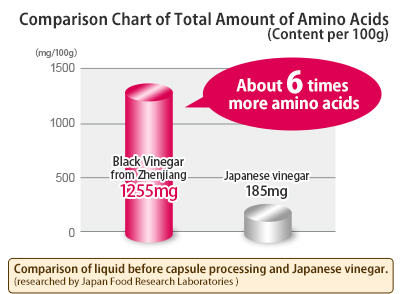 *The data above is a comparison of the liquid before processing it into capsules.
Amino acids are essential to the foundation of the body.
Protein is a foundation of the body and is composed of 20 kinds of amino acids, which are an essential ingredient for our body. They also help the citric acid cycle to function smoothly. Amino acids from Aromatic Black Vinegar support beauty and health.
Why it is better? ●Reason 1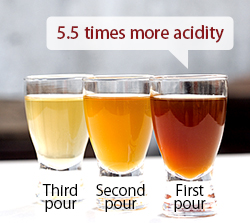 We use only the first pour of the vinegar, which has a higher concentration of amino acids and organic acids.
The rank of vinegar is determined by its acidity and density. The first pour of the vinegar is far deeper in colour and the difference is quite obvious. In relation to its shades of colour, the first pour of the vinegar has more amino and organic acids. The acidity of common vinegar is about 3 to 4 degrees because it mixes 1 to 3 pours of he vinegar and homogenizes. But Yawata's black vinegar is used only the first pour of the vinegar, so the acidity is more than 5.5 degrees. Yawata's first pour of the vinegar is fermented and matured for 6 months and becomes a darker amber colour as amino acids and organic acids increase.

Why it is better?●Reason 2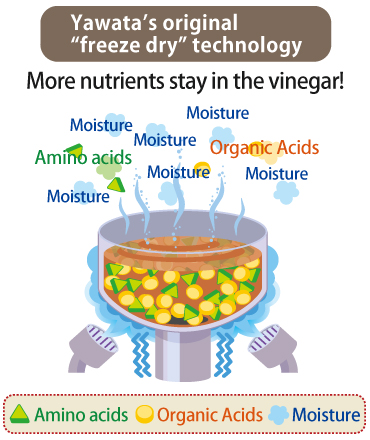 Yawata's original "freeze dry" technology, avoids freezing moisture. This allows the production of capsules preserving important nutrients, rich in organic and amino acids.
One of the distinctive features of vinegar is organic acid, which is vulnerable to heat. Its nutrients are easily destroyed when heated in order to concentrate its nutrients. After years of trial and error, we finally reached a satisfying process by which organic acids are slowly dried out by freezing the vinegar. As a result, the vinegar can be concentrated, preserving many components like organic acids. Using this method takes more time and is more expensive, but this is the method Yawata, who is passionate about dietary supplements, has chosen.
How to take
Take 2 capsules per day with water.
※It may vary in color of capsule due to natural ingredients but it does not affect
the quality of the product.

Supplement Facts
Nutrition facts (Per capsule:590mg)
Calories:3.2kcal
Protein:0.19g
Fat:0.20g
Carbohydrates:0.15g
Sodium:1.3mg
(Salt equivalent:0.0033g)
Amino acid content (Per capsule:590mg)
Arginine:13mg
Lysine:5.0mg
Histidine:1.6mg
Phenylalanine:4.0mg
Tyrosine:1.1mg
Leucine:5.8mg
Isoleucine:2.7mg
Methionine:2.2mg
Valine:4.7mg
Alanine:18mg
Glycine:37mg
Proline:21mg
Glutamic acid:21mg
Serine:6.5mg
Threonine:4.9mg
Aspartic acid:10mg
Tryptophan:0.025mg
Cystine:0.40mg
γ-amino butyric
(GABA):0.17mg
Organic acid content (Per capsule:590mg)
Citric acid:12mg
Succinic acid:0.49mg
※Contains wheat.
※The above value is only a guideline.
Recommended for people who…

don't like acidic food.
enjoy sports.
are busy.
want to stay healthy.