"Purera"
-Fish Collagen-

(360 capsules for 3 months)
Details
"Purera" -Fish Collagen-

 Collagen is naturally produced in the body but the amount decreases as you age. Usually collagen is extracted from animals such as cows and pigs but Yawata chooses safe fish collagen, which is low in molecular weight and is easily absorbed. Fish gelatin is also used as an ingredient in the capsules.
 Drinkable skin care supplement "Purera" contains 150mg of collagen in 1 capsule. Vitamin C and vitamin E, which are essential for beauty, are added.
 *Also available "120 capsules for a month"
Blessing from the sea: fish collagen!! Supports your beauty from inside the body.
Yawata's special fish collagen capsules made from fish gelatin.
We focused on researching fish collagen for 3 years. We finally succeeded in extracting collagen from fish and that is what is used in "Purera".
Collagen naturally exists in the body and supports health and beauty. It can be produced in the body but the amount of production decreases as you age. In order to stay beautiful, it is important to get collagen from supplements.
Powdered low-molecular weight collagen from fish is used for "Purera" and 1 soft capsule has 150mg of collagen. Moreover, capsules, which are made from fish gelatin, are used. Gelatin is also a kind of collagen allowing you to take in even more collagen with 1 capsule.
Vitamin C and E are also added to it as a beauty supplement.
Vitamin C
It is essential for producing and keeping collagen. It is an important vitamin for staying beautiful.
Vitamin E
It supports the function of collagen and is an essential vitamin for staying youthful.
Collagen exists in various parts of the body.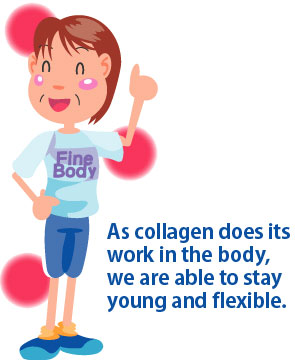 Collagen is a fibrous protein that is created in our bodies. Collagen accounts for 30% of all protein in the body. Comparing a human body to a brick wall, collagen is like the cement used to hold bricks together.
Collagen has a strong image as a beautifying component since it is widely used in various beauty products. Collagen actually exists in many parts of the body and is also a health-supporting component.
Collagen is essential for staying beautiful and healthy. Collagen's function is to help you to stay young and maintain a healthy body.
Good to know !
Along with "Purera", why not take Japanese Glucosamine for your health, Calcium & Chondroitin blended with Cartilage Calcium and Japanese Hyaluronic Acid for your vitality.
It is important to try to take nutrients essential for an active life to stay healthy. Important nutrients are described below.
One important nutrient is chondroitin. It is good when used with glucosamine and it helps to support the function of glucosamine. Chondroitin helps to keep moisture inside the body, which is essential for a healthy body.
Next is calcium. It is an important nutrient in our bodies and we should make sure we get enough of it. It is also important to take it with vitamin D,which is good when combined with calcium.
Collagen is important for your health as well. It is said that taking it with vitamin C helps to keep you healthy and beautiful.
Elastin is a fibrous protein, which works like collagen. It decreases as you age and needs to be supplemented.
Hyaluronic acid is important for a fresh life.
Coenzyme Q10 exists in various parts of our body and helps to keep us youthful.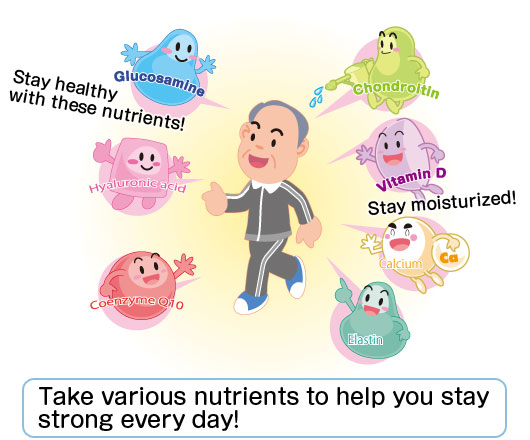 How to take
Take 4 to 8 capsules per day with water.

※It may vary in color of capsule due to natural ingredients but it does not affect the quality of the product.
Supplement Facts (Per capsule:700mg)
Calories
:4.1kcal
Protein
:0.35g
Fat
:0.28g
Carbohydrates
:0.051g
Sodium
(Salt equivalent
:0.45mg
:0.0011g)
Vitamin C
:9.4mg
Vitamin E
:6.8mg
Fish collagen
peptide powder
:150mg
Recommended for people who…

want to stay beautiful.
want to stay young and active.
*The photo and illustrations are for demonstration purposes only.
Recommended Related Products