Blueberry from Northern Europe (Foods with Function Claims)
(30 capsules per month)
Details
Blueberry from Northern Europe (Foods with Function Claims)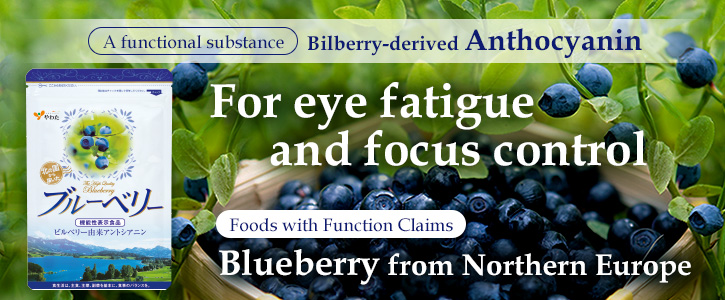 The application of Foods with Function Claims for "Blueberry from Northern Europe" has been accepted by the Consumer Affairs Agency, Government of Japan.

【Submitted claim】
Because this product contains anthocyanin from bilberry, it has the function of relieving eye fatigue and improving focus control, therefore improving the condition of the eyes.
A functional substance

Bilberry-derived

Anthocyanin
Notification Number

:E138
●Under the responsibility of a food business operator, this product has been submitted to the Secretary-General of the Consumer Affairs Agency as a product labeled with a statement that specified health outcomes can be achieved. However, unlike Foods for Specified Health Uses, this product has not been individually evaluated by Secretary-General of the Consumer Affairs Agency.
●This product is not intended to diagnose ,treat , cure, or prevent any disease.
●This product is not a food developed for those suffering from illnesses, children, pregnant women (including those planning to become pregnant) and lactating women.
●If you are ill, consult your doctor. If you are taking medicine, consult your doctor or pharmacist.
●If you experience a change in your physical condition, immediately stop taking the product and consult a doctor.
●Maintain a balanced diet including a staple food, a main dish and side dishes.
What are "Foods with Function Claims"?
Before this system was in place, making function claims on food labels had only been allowed for government-approved Foods for Specified Health Uses(FOSHU) and for Foods with Nutrient Function Claims(FNFC) that complied with the specifications and standards designated by the government. This new type of Foods with Health Claims, called Foods with Function Claims, was introduced in April 2015 in order to make more available products clearly labeled with certain nutritional or health functions and to enable consumers to make more informed choices.
Blueberry from Northern Europe is a supplement for eye health.
Do you suffer from blurred vision?
It could be due to "stiffness"
in the eye muscles.
Working on a computer or paperwork for
a long time causes ocular muscles to become tired.
It is inevitable that one experiences eyestrain or blurred vision when overworking the eyes. This condition is caused by prolonged near vision.
When you are looking closely, several muscles controlling the focus in the eyeball are in tension (contracting) and if this state of tension continues the muscles become stiff. Therefore, it is good to look at things from farther away when your eyes get tired. Stiff ciliary muscles, which adjust your focusing ability, reduce focusing function and lead to blurred vision.
To improve focus and relieve eye fatigue, it's important to ease and relax the muscle.

The functional substance "Bilberry-derived anthocyanin"
The functional substance
"Bilberry-derived anthocyanin"
supports eye health.
Relieves eye fatigue and
improves focus control.
Bilberry-derived anthocyanin is recommended to relax tensioned eye muscles. Bilberry-derived anthocyanins are believed to improve focus control by relieving stiffness in the muscles.
Bilberry-derived anthocyanin by improving focus control, relieves eye fatigue and is therefore a refreshing everyday support.
Anthocyanin from bilberries
Wild bilberries, grow in
Mother Nature are excellent.
Bilberries store anthocyanin
for protection from strong sunlight.
The main ingredient of Yawata's "Blueberry from Northern Europe" is the bilberry, which is a member of the blueberry family.
Bilberries, grow naturally in Northern Europe, and are mainly harvested in Finland, which has 70% forest cover and is abundant in nature. The country receives about 20 hours of sunlight a day during the summer, which is 1.5 times longer than in Japan. Bilberries store anthocyanin for protection from this strong sunlight, and the amount of anthocyanin in these bilberries is much more than that of Japanese blueberries. Bilberries are smaller, but one can tell that the color of anthocyanin is much deeper when the fruits are crushed.

※Comparison with common blueberries (weight ratio)
The blessing of nature condensed in one capsule
1 capsule contains the extract
of about 60 bilberries!
The ideal amount of bilberries extract intake is 120 to 250mg per day.
One capsule (one per day) of Yawata's "Blueberry from Northern Europe" contains 200mg of extract, equivalent to about 60 wild bilberries.
For this reason, we are proud to tell you that only one tablet a day is enough.


Careful handwork that haven't changed since a long time ago.
Yawata's bilberry which
is harvested carefully is a grace
of nature in Northern Europe.
Collecting bilberry is still careful manual work from a long time ago.
Bilberries which have only about 15cm to 20cm height from the ground are picked up by using a tool called picker. The work of bending down and picking a small tiny bilberry is hard labor. Even if experts concentrate 14 hours a day, they can only collect about 20kg.
How to take
Take 1 capsule per day with water without chewing.
※Please observe the daily intake recommendation and refrain from excessive consumption.
※It is hard to remove if the extract in the capsule gets on skin or clothes.

Supplement Facts
Nutrition facts(Per capsule:550mg)
Calories:2.8kcal
Protein:0.16g
Fat:0.14g
Carbohydrates:0.21g
Sodium:0.13mg
(salt equivalent:0.00032g)
β-carotene:1,850μg
DHA:4.1mg
EPA:4.1mg
Lutein:0.53mg
Coenzyme Q10:22μg
A functional substance(Per capsule:550mg)
Bilberry-derived anthocyanin:60mg
Recommended for people who…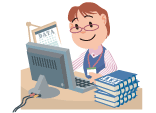 ★Those who suffer from blurred vision
★Those who do lots of office work
★Those who work on a computer for long periods