"URUOI" Soap (100g)
Details
"URUOI" Soap

Yawata's "URUOI" Soap is made by a traditional method with NO additives(*) except royal jelly (moisturizing effect). It is a very human and eco-friendly soap. The 3 main moisturizing agents; royal jelly, hyaluronic acid Na and hydrolyzed collagen tone the skin and help to retain moisture in the skin. The fluffy foam gently washes dirt off of your skin.
*This is soap with NO synthetic flavoring agents, artificial coloring, ethanol, mineral oil, parabens or petroleum surfactant agent.
"URUOI" Soap's special big fluffy foam gently washes dirt off your skin.
The foam holds the key to retaining moisture.
*1 This does NOT guarantee our products are allergy-free for everyone.
*2 Phenoxyethanol, which is not the same as ethanol, is used to maintain its quality.

The skin of soapberries has been used as a pure vegetable detergent since ancient times. Saponin from the skin of soapberries, which is a natural surfactant, dissolves in water to create a lot of foam, which you can then use to gently wash your face.
Quillaja saponaria bark extract, which is also called the soapbark tree, contains saponin and moisturizing agents; tannin is also included in our product.

2 components are used to create fluffy, marshmallow-like gentle foam.

Nature-derived "talc" absorbs excess sebum and sweat. It only attracts dirt meaning you can use it without hurting your skin.
Talc makes your skin silky and is also used in baby powder.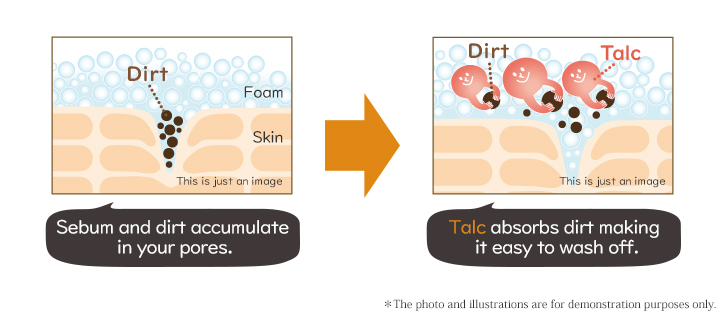 3 moisturizing agents are added to "URUOI" Soap !
The supplement manufacturer Yawata choose to combine royal jelly and Hyaluronic acid Na, with hydrolyzed collagen, which purifies the face and preserves moisture and skin tone.
Fluffy foam cleans your face!
Our goal was to gently wash the skin and thus we came to the conclusion of using "foam producing ingredients".
Natural ingredients are used in our soap making it gentle for both humans and the environment.
Traditional soap making method.
Kettle soap which retains moisture in your skin.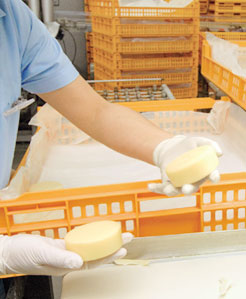 ● Rich in moisturizing components !
The traditional soap making methods, which are most often used, leave a fair amount of glycerin, from natural oils, in the soap. Glycerin is a natural moisturizing component and soap itself has the ability to help your skin retain its moisture.

● Our soap has a high level of purity making it gentler on your skin.
By adding salt, substances other than soap sink to the bottom along with the salt. This is how we maintain a high level of purity with our soap, making it gentler on your skin.
Untold stories from the developer of the soap
We have developed a soap containing royal jelly to satisfaction.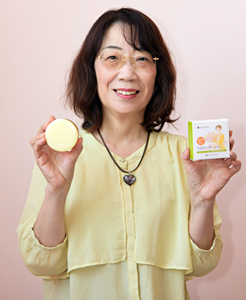 We are passionate about creating a soap using only natural ingredients and we have finally succeeded. The ingredients used to get rid of dirt, produce foam, and moisturize your skin, are all natural. We highly recommend that you try this soap.
Yawata's "URUOI" Soap is created by a traditional method and takes 100 hours of hard labor. The most important part of the process is getting rid of the impurities by using salt. Adding salt causes substances other than soap to sink to the bottom of the kettle so that we can remove them. Natural salt is used for this process and the process is repeated numerous times to achieve a high level of purity.
"URUOI" Soap is made from natural ingredients and is gentle on the skin.
Please try it and experience its gentleness for yourself.
Ingredients(weight/100g)
Soap material, Myristic acid, Water, Royal jelly, Hydrolyzed collagen, Hyaluronic acid Na, Quillaja saponaria bark extract, Mukurossi Peel Extract, Gardenia Jasminoides Extract, Glycyrrhizic acid 2K, Albumin, Talc, Tocopherol, Sodium ChlorideNa, Etidronic Acid 4Na, BG
※Please discontinue using the product if abnormalities occur, or if the product doesn't match your skin. Rinse with water if eye contact occurs. The color may change if it is stored for a long time, but there is no problem using it. Store away from direct sunlight, high temperature, low temperature, and high humidity, and use as soon as possible after opening. Please keep out of children's reach.
*The photo and illustrations are for demonstration purposes only.
Recommended Related Products