Moo Calcium (60 tablets)
At least 3 packages are required per order.
Details
Moo Calcium

Delicious, animal-shaped calcium tablets.
A real supplement that looks and tastes like a snack.
8 kinds of animal-shaped calcium tablets are made with love from milk and have a delicious yogurt flavor. Mothers and children can take it together. We have carefully selected the ingredients used for the safety of our customers' health.
*【Attention】 Minimum order is at least 3 packages of "Moo Calcium".
8 kinds of animal-shaped calcium tablets made from milk with love.
Delicious yogurt flavor. Mothers also can take it with their children.
It's natural for parents to ensure that children get enough nutrients. It seems that mothers tend to worry about their children to the extent that they forget to take good care of themselves and thus are lacking calcium from their diets.
Why don't you take "Moo Calcium" with your kids ? It is a full-fledged supplement with yoghurt-flavored and cute animal-shaped, which actually looks like sweets.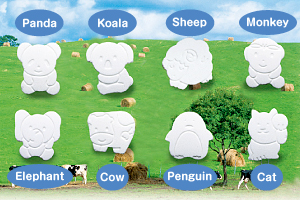 Ingredients are carefully selected for the safety of our customers' health.
Sweetening agents
(sorbitol, sucralose)
Sorbitol from glucose is extracted from grains like corn and is used as a sweetening agent in our product.

Calcium
Whey calcium from milk is used. Due to its high absorption rate it makes for an efficient nutrient. Each tablet contains 44mg of calcium.

Citric acid
We add citric acid from sweet potatoes and corn to give our product a fresh taste.
Emulsifier
An emulsifier is made from palm, coconut and rapeseed to help harden the tablet to the optimal condition.

Vitamin D
Vitamin D found in large amounts in fish is added to our product. It is very compatible with calcium. Each tablet contains 1.1μg of vitamin D.
How to take
Take 3 tablets, chew properly before ingesting.
※It may vary in color of capsule due to natural ingredients.
After opening the packet if the product absorbs moisture it might speck or become yellow, but this doesn't affect its quality.
※Please understand the product may not contain all 8 kinds of animals.

Supplement Facts (per tablet:800mg) 
Calories
:2.3kcal
Protein
:0.0040g
Fat
:0.026g
Carbohydrates
:0.62g
Sodium
(Salt equivalent
:1.6mg
:0.0041g)
Calcium
:44mg
Vitamin D
:1.1μg
Recommended for people who…

are pregnant or nursing.
don't like capsules.
are growing children.
*The photo and illustrations are for demonstration purposes only.
Recommended Related Products