Ginkgo Leaf EX (30 capsules per month)
(Foods with Function Claims)
Details
Ginkgo Leaf EX (Foods with Function Claims)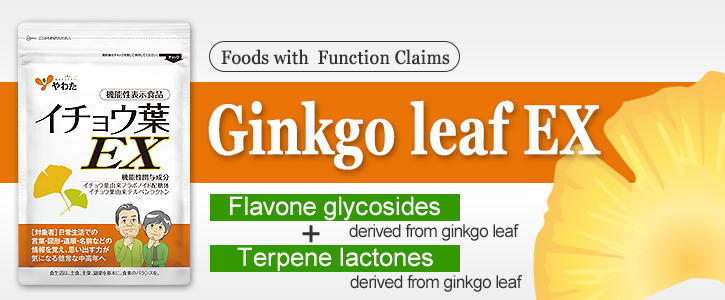 【Submitted claim】This product contains flavone glycosides and terpene lactones from ginkgo leaves. It is reported that these two ingredients maintain cognitive function (memorize and remember what you see and hear in daily life.)
Functional substances
【Notification Number B512】

Flavone glycosides

derived from ginkgo leaf


Terpene lactones

derived from ginkgo leaf
●Under the responsibility of a food business operator, this product has been submitted to the Secretary-General of the Consumer Affairs Agency as a product labeled with a statement that specified health outcomes can be achieved. However, unlike Foods for Specified Health Uses, this product has not been individually evaluated by Secretary-General of the Consumer Affairs Agency.
●This product is not intended to diagnose ,treat , cure, or prevent any disease.
●This product is not a food developed for those suffering from illnesses, children, pregnant women (including those planning to become pregnant) and lactating women.
●If you are ill, consult your doctor. If you are taking medicine, consult your doctor or pharmacist.
●If you experience a change in your physical condition, immediately stop taking the product and consult a doctor.
●Maintain a balanced diet including a staple food, a main dish and side dishes.
What are "Foods with Function Claims"?
Before this system was in place, making function claims on food labels had only been allowed for government-approved Foods for Specified Health Uses(FOSHU) and for Foods with Nutrient Function Claims(FNFC) that complied with the specifications and standards designated by the government.
This new type of Foods with Health Claims, called Foods with Function Claims, was introduced in April 2015 in order to make more available products clearly labeled with certain nutritional or health functions and to enable consumers to make more informed choices.
Two ingredients maintain your memory

You can see ginkgo (maidenhair) trees all over the place, they are very familiar.
Yawata pays close attention to two functional substances extracted from ginkgo leaf.
Functional substance derived from ginkgo leaf.
Flavone glycosides and
Terpene lactones
are reported to maintain and preserve your memory, a part of cognitive function.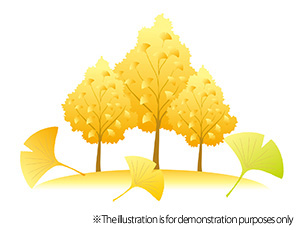 How to take

Take 1 capsule per day with water without chewing.
※If you take anticoagulant drugs or antithrombotic such as Warfarin, DO NOT consume this product.
※Please observe the daily intake recommendation and refrain from excessive consumption.
※It may vary in color of capsule due to natural ingredients but it does not affect the quality of the product.
Supplement Facts (per capsule:550mg)
Calories
:3.2kcal
Protein
:0.16g
Fat
:0.20g
Carbohydrates
:0.17g
Sodium
(Salt equivalent
:0.084mg
:0.00021g)
Flavone glycosides
derived from ginkgo leaf

:28.8mg
Terpene lactones
derived from ginkgo leaf

:7.2mg
Recommended for people who…

want to stay healthy.
want to become more lucid.