"Nonage" Whitening Gel (75g)
Details
"Nonage" Whitening Gel
[75g for a month]

In "Nonage" whitening gel, we carefully selected and condensed essential nutrients for mature skin. "Nonage" whitening gel is a medicated product and provides both whitening(※) and moisturizing effects, leading to healthy skin. The key to healthy skin through natural ingredients and simple care.
※"Whitening" signifies the effect of preventing the production of melanin pigment, which creates age spots and freckles.
We focused on the ability to understand the real feeling of skin and simplicity of use.
Easy to open !
Our product comes in a tube with an easy to open cap.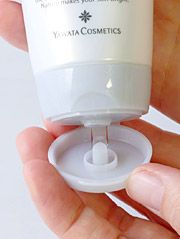 Our product comes in a tube with an easy to open cap to make it easier for you to take good care of your skin, even on busy mornings.
Ingredients
<Active Ingredients>
Arbutin, Glycyrrhizic acid 2K
<Other Ingredients>
Purified water, Hyaluronic acid Na liquid, Acetylated hyaluronic acid Na, Collagen, Collagen/Tripeptide F, Vitamin C tetrahexyldecanoate, Peony flower extract, Licorice flavonoid, Baikal skullcap root extract, Jujube extract, Horse chestnut extract, Herb Robert extract, Natural vitamin E, Concentrated glycerin, Polyoxyethylene methyl glucoside, Dipropylene glycol, Butylene glycol, Pentylene glycol, Polyoxyethylene (26) glycerin, Polyoxybutylene polyoxyethylene polyoxypropylene glyceryl ether, Betaine, pyrosulfuric acid Na, Octadecanoyl amino octadecanediol, Horse sphingolipid, Arachidyl glucoside/ Arachildyl alcohol/Behenyl alcohol, Caprylic/Capric triglyceride, Hydroxyethyl cellulose hydroxypropyl stearyl ether hydroxypropyl sodium sulphonate, Carboxyvinyl polymer, Acrylic acid-methacrylic acid alkyl copolymer, Hydroxide K, POE (20), POP (4), Cetyl ether, Glycerin ethylhexyl ether, Phenoxyethanol
*If any of the symptoms below occur, discontinue use immediately and talk to your doctor. Continued use of the product may worsen the symptoms.
1. Rash, swelling, itchiness, irritation, color loss (white spot) or blackening of the skin.
2. The symptoms described above occur when the skin is exposed to direct sunlight.
How to use
After washing your face or using "URUOI" Essence, put 2 pearl-sizes of whitening gel on the palm of your hand.
Apply gently to your face and finish by covering your face with your hands to help the skin absorb the essence.
*The photo and illustrations are for demonstration purposes only.
Recommended Related Products