Aged Garlic with Egg Yolk (60 capsules per month)
Details
Aged Garlic with Egg Yolk

Garlic yolk is a local specialty in the southern Kyushu region. Yawata starts by carefully selecting the ingredients. We chose "Fukuchi White", garlic grown in Aomori, in freezing winters and matured one by one for 30 days by craftsmen. Yawata uses only fertilized eggs. Passion for ingredients ensures high levels of nutrients and product safety.
Skilled farmers mature garlic for 30 days. The power of garlic stays inside while being matured.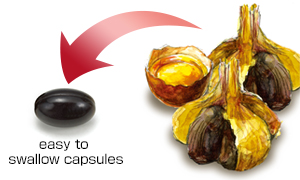 Garlic is a blessing from nature that grows in harsh lands. Craftsmen carefully mature Fukuchi White garlic one by one. The power of garlic has is locked inside while turning black and maturing. It is mixed with fertilized fresh egg yolks and put into soft, easy to swallow capsules. Please take it for increased energy and as a nutritional supplement.
Garlic is matured for 30 days. The nutritious components become richer as it turns black.

Garlic releases a strong smell and has a pungent taste when it comes into contact with oxygen. This smell and taste are due to allysine, which is good for your health and beauty. It's been proven that allysine changes when processed in various ways. Yawata ages garlic to obtain a milder taste and smell, which is also good for your stomach, and uses it for "Aged Garlic with Egg Yolk". Garlic is aged individually by craftsmen taking into consideration the season, weather, temperature and humidity.
The nutrients inside increase as it ages.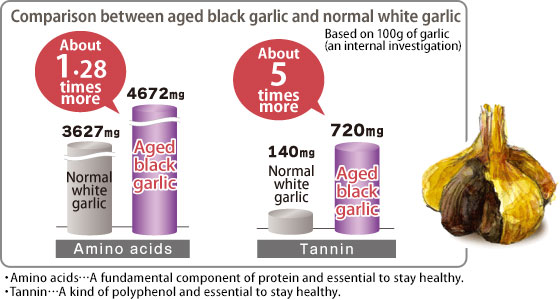 Fukuchi white garlic becomes sweet in the harsh Aomori winter.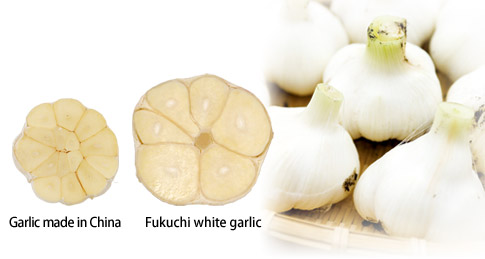 Yawata is passionate about ingredients. We choose Fukuchi white garlic from cold Aomori prefecture and each bulb is as big as a lady's fist. It's dense and a transparent white when pealed. Premium Fukuchi white garlic is traded in markets with a high price because of its rich nutrients, strong pungent smell and taste and sweetness when cooked.
Yawata ages garlic to obtain a stomach-friendly mildness, and to help the body absorb its nutrients efficiently.
Fertilized eggs from free-range chicken which is a blessing from nature.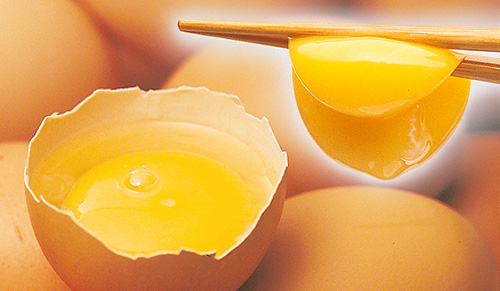 Eggs are very important to make Garlic Yolk.
Yawata uses only fertilized eggs.
Hygiene, nutritious food and the health of the chickens are all carefully monitored. The chickens can run around freely. The eggs from these chickens are very rich in nutrients and their nutritional value is preserved because the eggs are processed while still fresh.
The eggs contain proteins and essential amino acids, which cannot be produced in the body.
How to take
Take 2 capsule per day with water.
※If the temperature is lower than about 15°C, the content inside the capsule will shrink, detaching from the membrane resulting in a visible white discoloration.
And it may vary in color of capsule due to natural ingredients but it does not affect the quality of the product.

Supplement Facts (Per capsule:455mg)
Calories
:2.7kcal
Protein
:0.16g
Fat
:0.19g
Carbohydrates
:0.079g
Sodium
(Salt equivalent
:0.12mg
:0.00030g)
※Contain eggs.
※The above value is only a guideline.
Recommended for people who…

enjoy sport.
are busy.
want to be energetic from the morning.