Monsieur Royal (75 capsules per month)
Details
Monsieur Royal

Male-friendly nutrients are added to Royal Jelly Gold 600.

Monsieur Royal is based on Yawata's popular product, Royal Jelly Gold 600, but with more nutrients, which are good for men's health.
Take our upgraded Royal Jelly, with more power, to stay healthy and, of course, women can also enjoy the power of Monsieur Royal.
※If you have atopic dermatitis, asthma, food allergies, please avoid
※If you are pregnant or breast feeding, we suggest that you consult your physician before taking.
Zinc
A good source of energy and zinc is found in oysters and eels.
Usually, we take minerals from vegetables and seaweeds. Minerals exist in nature naturally as "inorganic" matter.
It is hard for the body to absorb "inorganic" minerals. Once they are in the human body, they are turned into an "organic" substance.
We feed "yeast" with "inorganic" zinc to obtain "organic" zinc, which we then put into capsules.
There is a lot of zinc in oysters, eels, burdock and cheese. There are about 2g of zinc in the body of an adult and it is contained in enzymes (about 200 kinds), which help the bio-generation of protein and alcohol.
The recommended daily intake of zinc for men between ages 30-49 is 12mg.
Each capsule of Monsieur Royal contains 3.3mg of zinc.
Minerals, Vitamins, Amino acids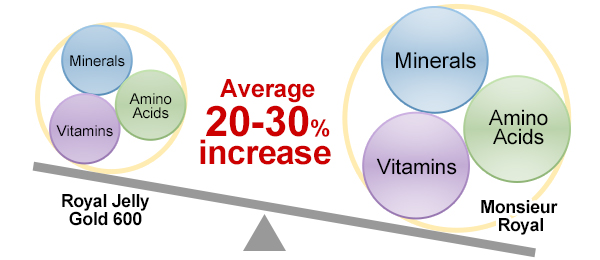 More minerals, vitamins and amino acids are added.
As a result of adding "yeast containing zinc", the amount of minerals, vitamins and amino acids is increased by 20 to 30% compared to Royal Jelly Gold 600.
"Yeast containing zinc" is drawing attention these days as a nutritional supplementary food and has an extremely good nutritional balance of minerals, vitamins and amino acids.
How to take
Take 2 to 3 capsules per day with water.

※It may vary in color of capsule due to natural ingredients.
 It may discolor like brown if exposed to direct sunlight for a long period of time, in either case , does not affect the quality of the product.
 It may be delayed when stored in refrigerator.
Supplement Facts
Nutrition facts (Per capsule:535mg)
Calories:2.6kcal
Protein:0.23g
Fat:0.14g
Carbohydrates:0.13g
Sodium:0.18mg
(salt equivalent:0.00046g)
Zinc:3.3mg
Manganese:0.00086mg
Calcium:0.11mg
Magnesium:0.21mg
Potassium:2.1mg
Iron:0.0096mg
Copper:0.0026mg
Phosphorus:1.7mg
Vitamin B1:0.0048mg
Vitamin B22:0.0048mg
Vitamin B6:0.0020mg
Pantothenic acid:0.020mg
Niacin:0.061mg
Folic acid:0.73μg
Biotin:0.17μg
Arginine:15mg
Lysine:10mg
Histidine:3.0mg
Phenylalanine:6.5mg
Tyrosine:3.6mg
Leucine:10mg
Isoleucine:5.5mg
Methionine:3.7mg
Valine:7.7mg
Alanine:17mg
Glycine:35mg
Proline:20mg
Glutamic acid:21mg
Serine:9.6mg
Threonine:7.3mg
Aspartic acid:22mg
Tryptophan:1.0mg
Cystine:0.94mg
Inositol:0.20mg
Gluconic acid:11mg
JHFA standard components (Per capsule:535mg)
As the equivalent of Royal Jelly:600mg
Decenoic acid:7.5mg
※If you have atopic dermatitis, asthma, food allergies, please avoid taking.
※If you are taking medicine, going to hospital, pregnant or breastfeeding, please consult your doctor before using.
Recommended for people who…

want to stay dandy.
always want to be reliable.
want to stay active.
We also offer set of Madam and Monsieur Royal. Click here for more information.
*The photo and illustrations are for demonstration purposes only.
Recommended Related Products