Delicious Green Vegetable Juice (30 sticks per month)
Details
Delicious Green Vegetable Juice

"Delicious Green Vegetable Juice" contains vitamins (A, B-group and C), catechin, dietary fiber and lactic acid bacteria to compose a well-balanced diet. The juice has a sweet and fresh taste to it and people of all ages enjoy drinking it. Green Vegetable Juice has a good balance of nutrients and is easy to drink making it good for continuous use. Its fine quality helps to support a healthy lifestyle.
Easy-to-drink green vegetable juice used 8 organic ingredients.
No sugar added. Drink easily in a gulp and get plenty of nutrition.
As a result of pursuit of both nutritional balance and taste, it comes to blend with 8 kinds of organic ingredients.We use green barley with SOD, molokheiya (Egyptian spinach) and bitter melons well known as healthy foods, matcha green tea with catechin flavonoids and more as an ingredient. We also added ingredients that are body friendly, such as lactic acid bacteria, which is difficult to obtain from vegetable.
This green vegetable juice with a cup of a day, which supplement vitamins and dietary fiber, can drink easily in a gulp instead of tea and juice.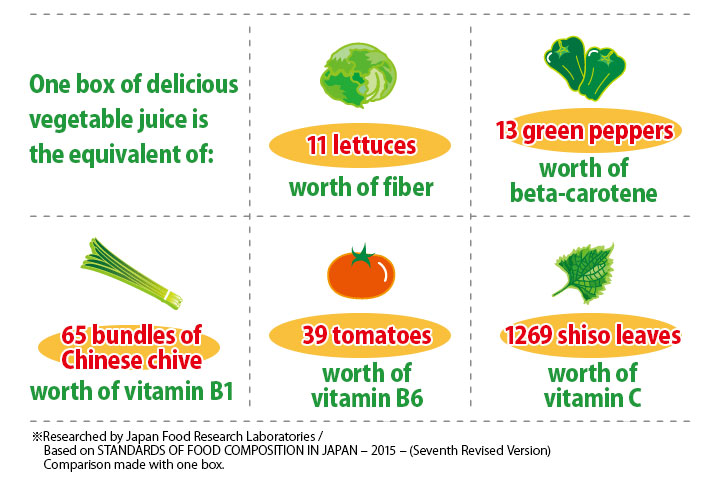 Untold stories of Delicious Green Vegetable Juice from the person in charge of its development.
Usually, kale is used to make green vegetable juice. Even though kale is highly nutritious, too much of it increases the bitterness and grassy smell of the juice.
On the other hand, if we prioritize taste and make it easier to drink, we need additives such as sweeteners. Choosing a higher nutritious value over taste is ideal but people will not continue drinking it if it doesn't taste good. So we decided to devote ourselves to researching and developing a green vegetable juice that had both a good balance of nutrients and a delicious taste.
First, we worked on balancing nutrients by trial and error, and came to the conclusion that it was best to make a blend of 8 organic ingredients such as green barley with SOD, molokheiya (Egyptian spinach) and bitter melons well known as healthy foods, matcha green tea with catechin flavonoids and more. In order to create a "delicious green juice" from these ingredients, as well as giving our product a good dietary balance we also added lactic acid bacteria, which is good for your stomach and difficult to obtain from food.
8 kinds of ingredients are cultivated in a safe and secure organic method.
Reason for 8 kinds of organic ingredients…Our passion for delicious green vegetable juice
Drinking Green Vegetable Juice means putting natural ingredients into your body.
"Delicious Green Vegetable Juice" is made from vegetables that are grown safely and with great care. These ingredients include green barley, molokheiya (Egyptian spinach), kale, mulberry leaves, green tea, matcha, aloe arborescens and bitter melon.
Synthetic chemical pesticides and fertilizers are not used in the cultivation of these ingredients and various alternative ways are used to prevent weeds, pests and diseases. We work with nature and carefully select ingredients cultivated with love.

What are organic agricultural products (organically cultivated ingredients)?
Organic agricultural products are vegetables that have been cultivated without synthetic chemical pesticides or fertilizers for more than 3 years, and are grown in soil that is fertilized with organic compost. The vegetables can then be called "organic".
Green Barley


Green barley has a lot of vitamins, minerals, protein and enzymes. It also contains lots of SOD, which supports your health.

Kale


Kale is a vegetable of the Cruciferae family and contains vitamins, minerals, dietary fiber and more.

Green Tea


Catechin is the source of the distinctive bitter taste of green tea. Green tea contains 4 kinds of catechins.

Aloe Arborescens


Aloe arborescens is a kind of aloe that grows in Japan. It's used as a food source since it tastes good and is good for your body.

Molokheiya (Egyptian spinach)


Molokheiya has a high nutritious value and is starting to gain attention as a healthy vegetable. It is mainly grown for food in Okinawa.

Mulberry Leaves


The leaves contain lots of minerals, dietary fiber, flavonoid and more.

Matcha


Matcha is made from powdered green tea leaves. Drinking it enables you to take in all the nutrients the leaves contain.

Bitter Melon


Bitter melon is an annual summer vegetable with a distinctive bitterness, but that is rich in vitamin C.
Received a "Monde Selection Gold Quality Award" for 3 consecutive years (2012-2014).
The award is a standard guideline for quality assurance with a good international reputation. Safe quality guaranteed.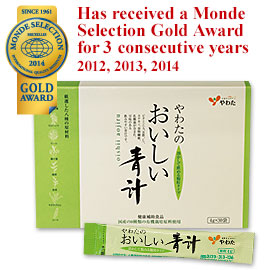 "Delicious Green Vegetable Juice" received a "Monde Selection Gold Quality Award" for 3 consecutive years (2012-2014).
Monde Selection is an international organization for quality evaluation. It was established in 1961 in Belgium. Consumer products undergo an impartial evaluation and are awarded a medal depending on quality. The products can receive gold, silver or bronze medals every year.
A group of independent specialists (such as nutrition consultants, university lecturers and so on) judge health food products strictly and fairly, evaluating every detail, and certify their quality.
This quality label, given by Monde Selection, an international organization for quality evaluation, has been developing for over half a century, and is an international recognition of high quality. It also is a guarantee of quality for the consumers, who can safely choose with confidence.
How to take

Drink 1 stick per day by mixing it with water, hot water, milk or anything you like.
※Since it contains lactic acid bacteria, it may turn sour if it is left to sit after mixing with liquid. Consume it right away once it's opened.
Supplement Facts (per stick : 4g)
Calories
:12kcal
Protein
:0.34g
Fat
:0.080g
Carbohydrates
(Sugar
(Fiber
:3.9g
:2.3g)
:1.6g)
Sodium
(salt equivalent
:0.92mg
:0.0023g)
Vitamin A
:6.4μg
Vitamin B1
:0.13mg
Vitamin B2
:0.16mg
Vitamin B6
:0.21mg
Niacin
:1.8mg
Pantothenic acid
:0.44mg
Folic acid
:76μg
Biotin
:11μg
Vitamin C
:11mg
β-carotene
:74μg
Catechin
:16mg
Tannin
:35mg
SOD
:6,400unit
Vitamin E
:0.18mg
Vitamin K1
:30μg
Iron
:0.22mg
Calcium
:12.7mg
Magnesium
:3.4mg
Copper
:0.011mg
Zinc
:0.053mg
Manganese
:0.21mg
Total chromium
:0.017mg
Phosphorus
:6.3mg
Potassium
:32mg
Arginine
:12.6mg
Lysine
:14.4mg
Histidine
:6.3mg
Phenylalanine
:12.7mg
Tyrosine
:7.8mg
Leucine
:20.2mg
Isoleucine
:10.6mg
Methionine
:4.9mg
Valine
:14.1mg
Alanine
:15.4mg
Glycine
:13.2mg
Proline
:12.6mg
Glutamic acid
:32.0mg
Serine
:11.4mg
Threonine
:11.6mg
Aspartic acid
:24.6mg
Tryptophan
:5.0mg
Cystine
:3.4mg
γ-aminobutyric acid
:0.56mg
Inositol
:3.6mg
Gluconic acid
:0.0032g
Erythritol
:0.28g
Anhydrous caffeine
:0.0034g
Total chlorophyll
:4.16mg
Sucrose
:0.029g
Lactic acid bacteria
:100million*
※Contains milk.
※The above value is only a guideline. (except *)
Recommended for people who…

lack nutrients and don't like vegetables.
often eat out and have an unbalanced diet.
want to stay healthy and beautiful.
are busy.
has an irregular diet.
Customers' Voices

It makes me feel energetic for my age and I am very satisfied with it.
Chiba Prefecture Mr. Junji Nakashima (69 years old)
I have an irregular diet and am a social drinker. I drink this juice to cover my lack of vegetable and nutrient intake. Thanks to this juice, my friends and co-workers have been telling me that I look young for my age.
*The statement is based on personal information at the time of the interview.
*This is an actual user's view and doesn't guarantee the effect of the product on others.